PG-100/PG-200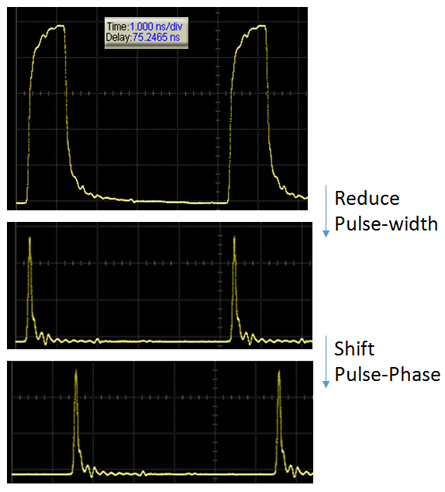 The PG-100 and PG-200 are programmable pulse generators with optional optical outputs. Pulse widths of <100 ps to 2 ns duration can be programmed at rates from 10 MHz to 2 GHz, and the pulses can be programmed to shift in phase (time) and amplitude. The optical pulses are generated using external modulators, are optionally wide-band tunable, and can be ordered with an integrated optical amplifier and tunable filters to enable flexible pulse generation with up to 100's of mW of peak power at an affordable cost. The pulse rate is controllable via an internal (10 MHz reference input) or external oscillator. This valuable laboratory tool can be used for a wide variety of purposes, such as impulse response testing, comb generation, lidar, frequency conversion via nonlinear crystals, and nonlinear fiber optics.
The pulse generator has two ports. Port 1 is an electrical output with no amplitude control. Port 2 is either a 2nd electrical output with a higher voltage capability (up to 6 V output is possible depending on the pulse settings) and with a programmable amplitude control or it is an optical output. The programmable phase control shifts both output ports with respect to the input clock phase.
The system can optionally be configured as an optical pulse picker to divide the pulse rate of an input optical pulse sequence by a programmable integer number. Here the user supplies their own optical input pulse sequence and electrical clock, and the pulse picker can select down-counted pulse rate and shift the pulse-picking window to overlap with the arriving pulses. For instance, a user could select every 16th pulse from a 200 MHz mode locked laser to convert it to a 12.5 MHz repetition rate. Note the pulse picker can also be configured to be a pulse generator by injecting your own CW input laser light.
---
Basic Features
Variable pulse width, phase (delay), repetition rate, and amplitude
<100 ps minimum pulse duration (PG-200), 20 MHz − 2 GHz repetition rate
Externally modulated optical output
Optical signal can have wide-band tune-ability (C-band), and optical amplification
USB computer control
Product Specifications
Attribute
Value
Units
Comments
Pulse Repetition rate
0.01 – 2
GHz
Achievable with external clock
Internal oscillator
0.14 – 2
GHz
External clock input
50 – 250
mVpp
Pulse delay control range
2
ns
Programmable with respect to clock, up to ½ of repetition period
Pulse delay resolution
20
ps
Laser linewidth
<0.1
<10
MHz
Tunable laser
DFB laser
Wavelength tuning range
35
± 0.5
nm
Tunable laser
Typical DFB laser
Laser Center Wavelength
1590
1540
1310
1064
nm
Selectable wavelength band; DFB C-band lasers selectable on the ITU grid, Tunable lasers available at 1540 (C-band) or 1590 (L-band), 1950 nm DFB version also available
Peak optical power
2
400
mW
Standard C-band DFB laser, no EDFA
C-band Tunable laser, with EDFA (e.g. 200 ps pulse width, 25 MHz rep rate)
Pulse width (τ)
0.1 - 2
0.2 - 2
0.5 - 2
ns
PG-200 (optical or electrical outputs)
PG-100 (port 1, 100 mV output)
PG-100 (port 2) >2.5 V peak output
Form Factor
2
U
2U rack box standard 3.5" × 13" × 17"
* Not all configurations available, additional options are possible: please inquire
* Specifications are estimates subject to change without notice
Typical Applications
General laboratory testing: impulse response, pulse synchronization, comb generation
Nonlinear optics such as frequency conversion in periodically poled Lithium Niobate waveguides or pulse-probe measurements
Nonlinear fiber optics
Lidar

Product Diagrams
Options for PG-100 & PG-200
PG-[X]00-[L]-[λ]-[A]-[V]
X: select minimum pulse width: 1 (150 ps on port 1 and 500 ps on port 2) or 2 (<100 ps on both ports)
L: laser type: T- tunable, D- DFB, P- pulse picker (no internal laser but PM fiber input to modulator), X – electrical pulses (no laser)
λ: laser wavelength: C- 1540 nm tunable, L- 1590 nm tunable, ITUxx- selects channel from 100 GHz ITU grid (e.g. ITU33 selects 1550.9 nm, ITU32 selects 1551.7 nm), O – 1310 nm, Y – 1064 nm, X - no laser
A: selects optional fiber amplifier (EDFA): A: add amplifier, X: no amplifier
V: selection optional variable optical attenuator (VOA) at output: V: add VOA, X: no VOA
Example Model Numbers:
PG-100-X-X-X-X: electrical pulser with dual outputs: port1 τ > 150 ps and port 2 > 500 ps, port 2 has controllable output voltage from <0.2 V to >2.5 V.
PG-200-D-ITU56-X-X: opto-electrical pulser with fixed 1532.7 nm wavelength, <100 ps minimum pulse width (both optical and electrical ports)







Product Photo